We are proud to announce that we have won 'Recruitment Company of the Year under £2m' at the APSCo Awards for Excellence 2022.
Our CEO and Founder, Toby was invited to join the other finalists at the APSCo awards lunch on Tuesday 20th September at the NatWest Conference Centre in London where we were shortlisted in 2 categories, 'Recruitment Company of the Year under £2m' and 'UK Support Service Team of the Year'.
The APCSO Awards are a prestigious award within the Recruitment Industry which focuses on a commitment to excellence. The judges commented that we showed real passion in how we represent the staffing sector and look after our candidates and clients, which has led to long term and extremely valuable relationships. The judges highlighted that we have a well-thought-out growth plan, great infrastructure and stated that they "expect to see our company's business explode in the future."
Toby Briant, CEO said "I am so pleased that Rutherford Briant was nominated for 2 awards and really proud of the team to have won Recruitment Company of the Year. This is testament to how the business has not only survived the pandemic but has thrived and continues to grow, as well as establish itself as the leading specialist recruitment consultancy within the local region. To have this recognition from APSCo is a real privilege."
We would like to congratulate all the winners and the runners up from the awards and of course say a huge thank you to all our clients and candidates for supporting us.
If you would like to work with an award-winning recruitment business to help secure your next role or source your next great hire, please get in contact with us.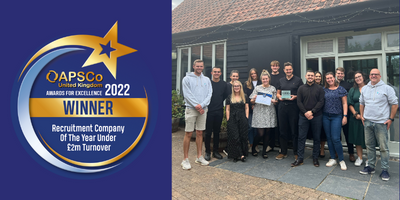 Posted by: Molly Goddard